Celebrate 100 Years of Eagle Naz!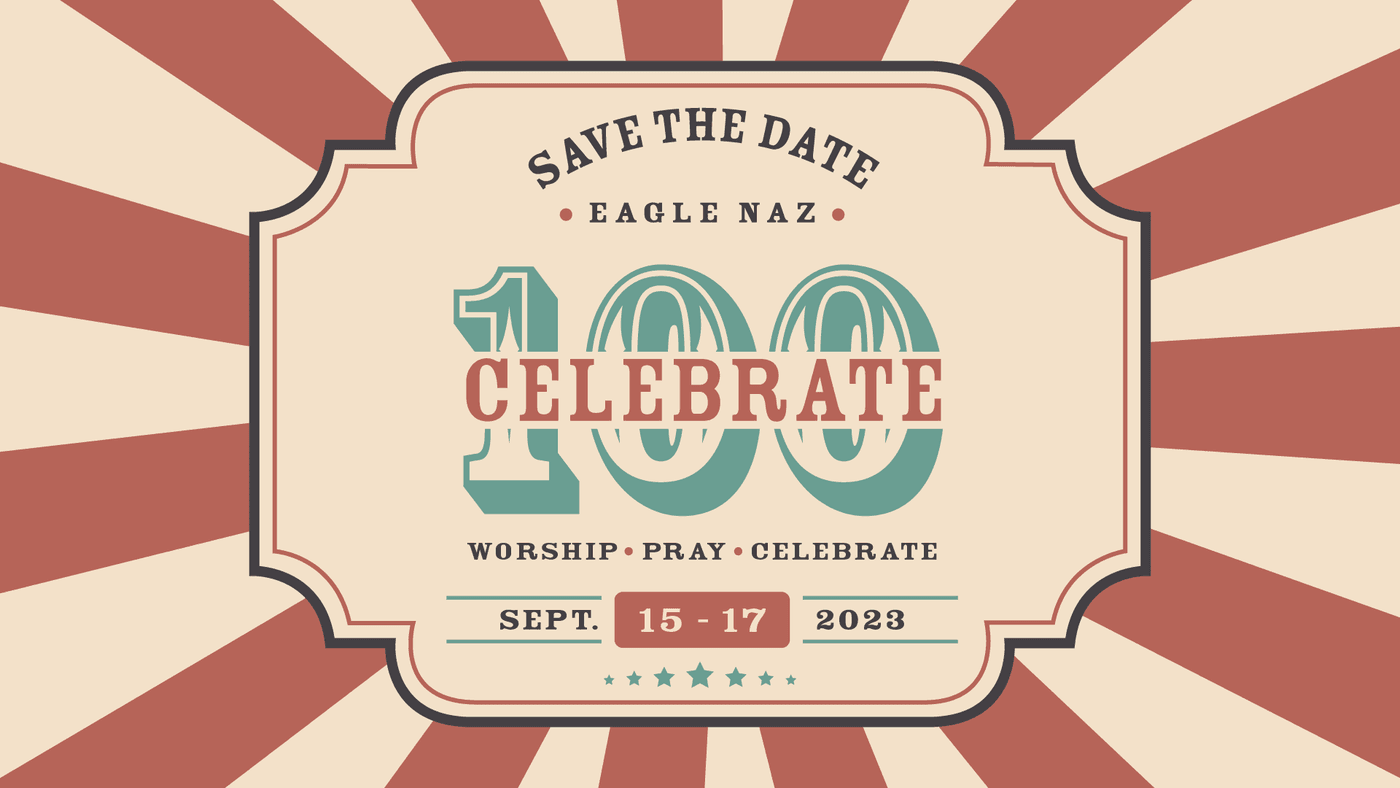 Join us this September as we mark 100 years of Eagle Naz with a weekend of worship, prayer, and of course, celebration! There is so much that has happened in the last century of our church and so much more to look forward to in the future. We would love you and your families to be a part of it all!
Friday, September 15
7:00 pm - Worship Night (main sanctuary)
Saturday, September 16
7:00 pm - Prayer Walk (meet in main lobby)
Sunday, September 17
9:30 & 11:00 am - Vision & Celebration; 1923 - Style Carnival to follow!
🎪You will not want to miss the 1923 - style carnival (trolley rides, ponies, face paint and so much more!) after second service! Those of you attending service at 9:30, join us in the east entrance for coffee and donuts during second service as we wait for the carnival to begin.
🥘 Church Potluck: You're invited to bring your favorite 1923-style dish to share! Our food prep team will keep your items warm/cold in the kitchen during services, so all you need to do is drop it off before you head in. We can't wait to see what you come up with!
🚗 Parking: We are expecting a lot of guests and first-time visitors on Sunday, so if you are willing and able, please park at 7th Day Adventist Church (just a short distance down the State St) and take a nice walk to church! We appreciate you!
Volunteer to Help!
We'll need lots of smiling faces and bodies to make this event happen, so we encourage families, small groups, and individuals of all ages to sign up and look for ways to participate in hosting our community and celebrating 100 years as a church family. We have opportunities ranging from grounds clean-up all the way to hosting carnival games. Fill out the form and check the areas where you would be interested in serving. Thank you!